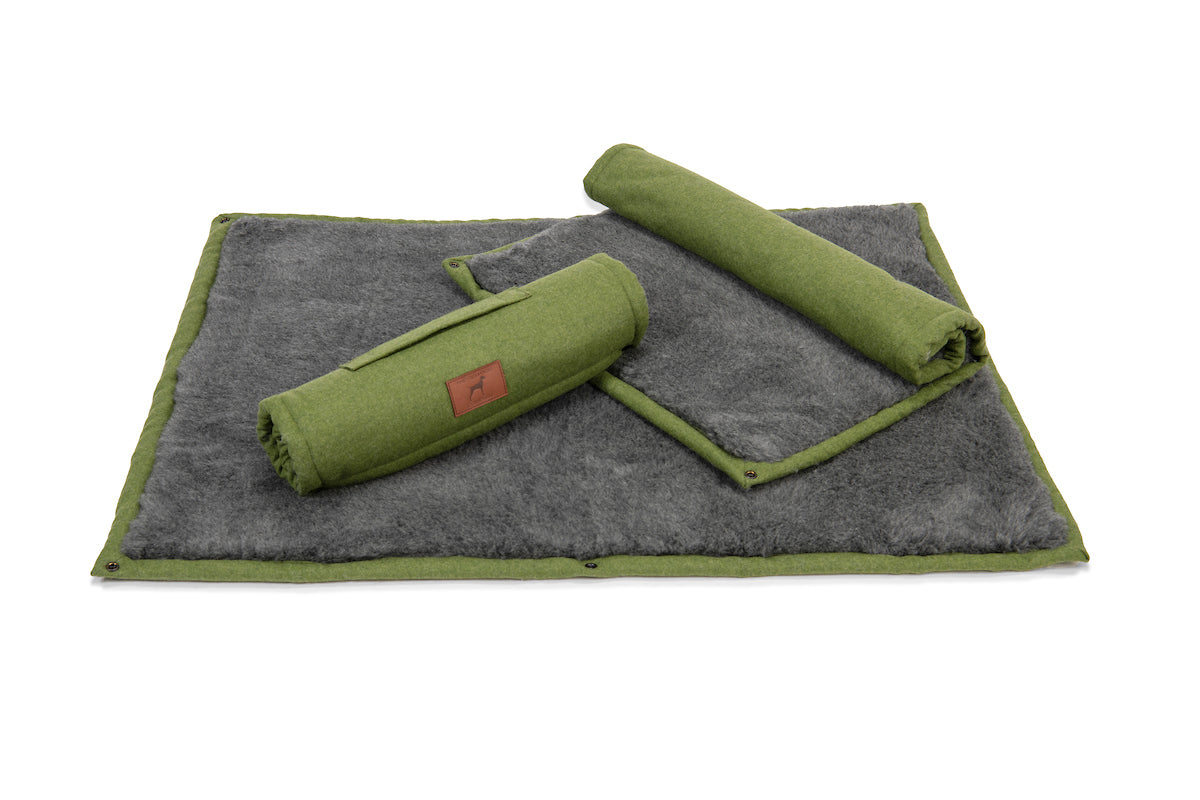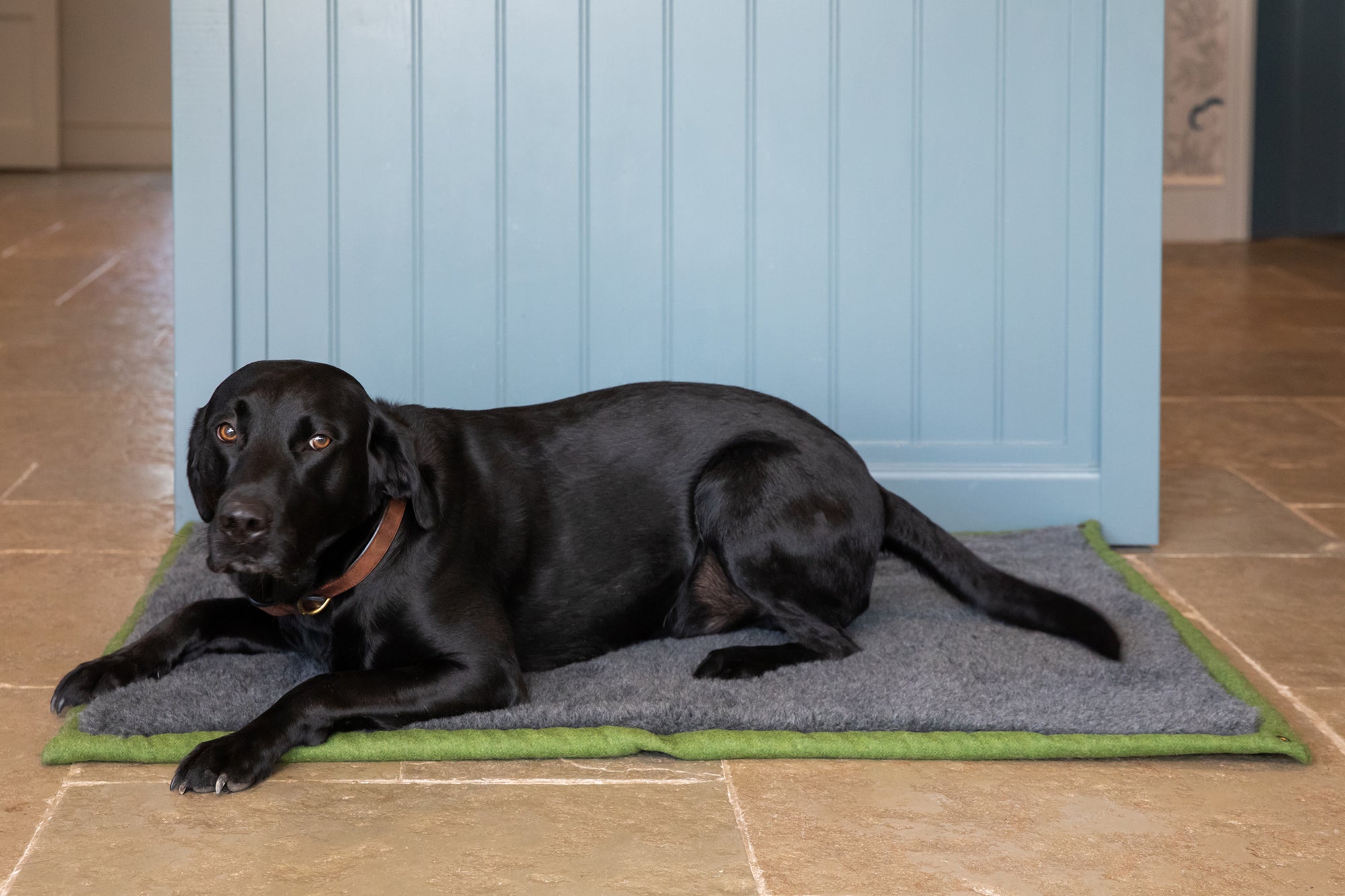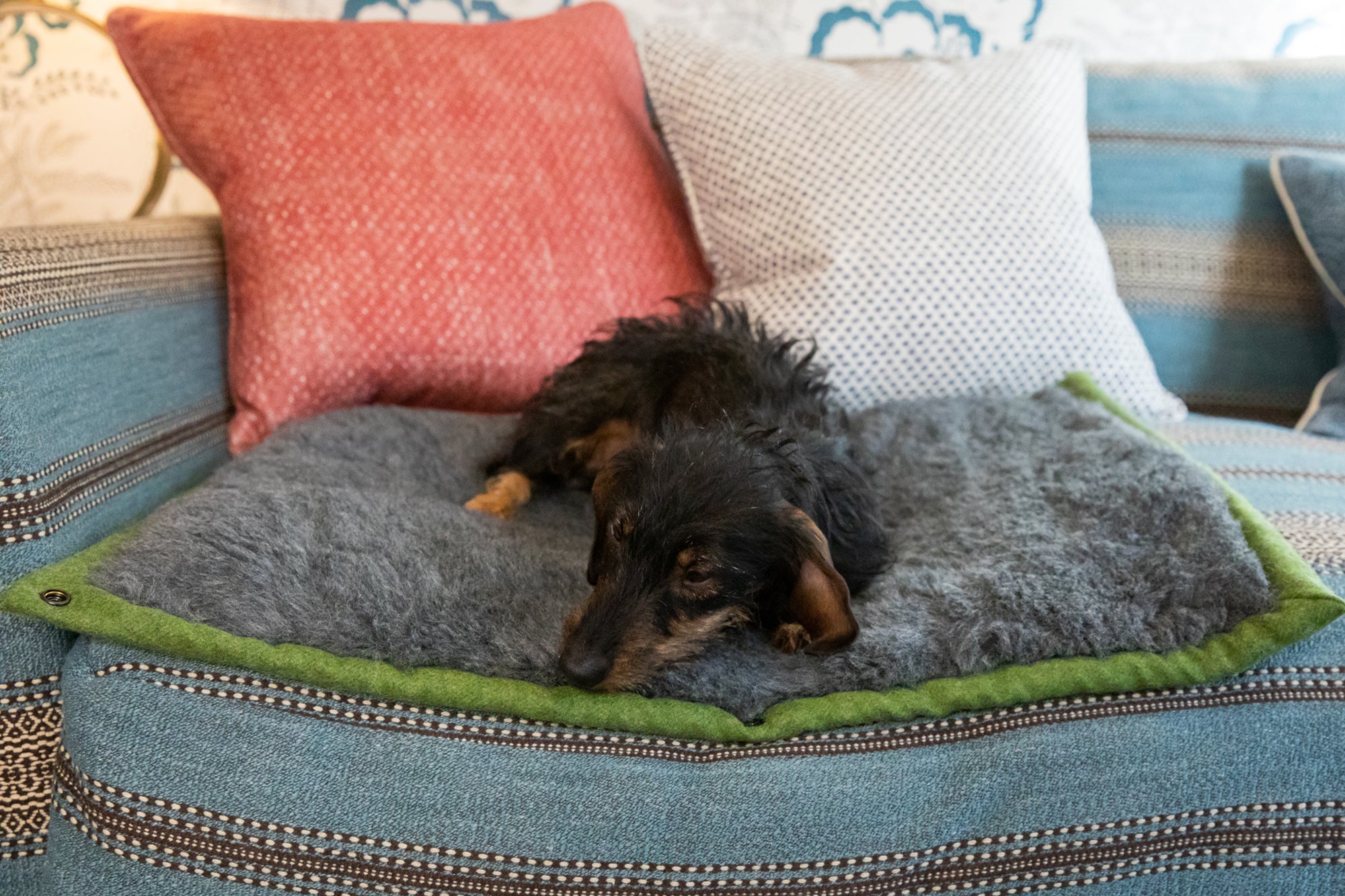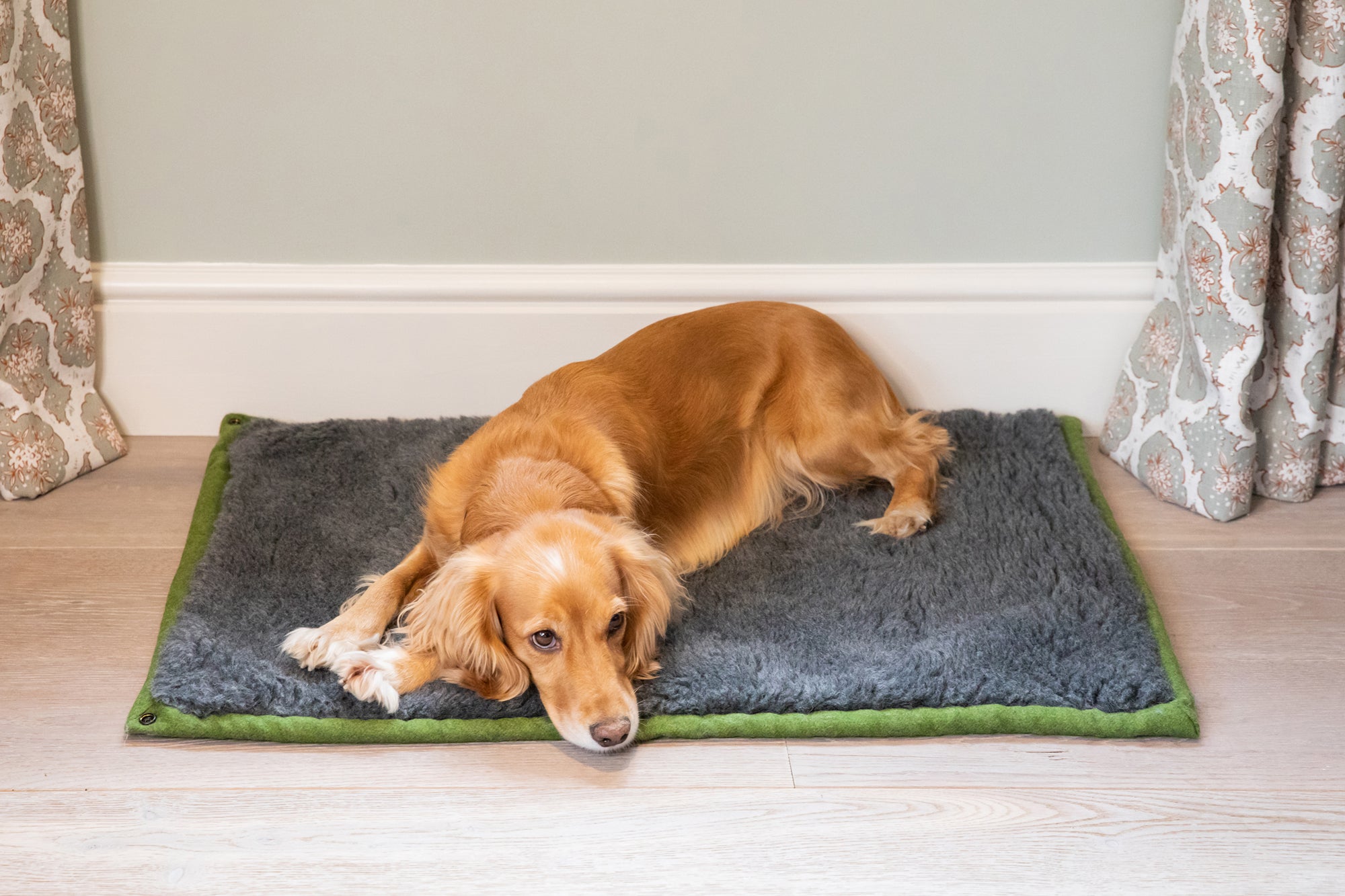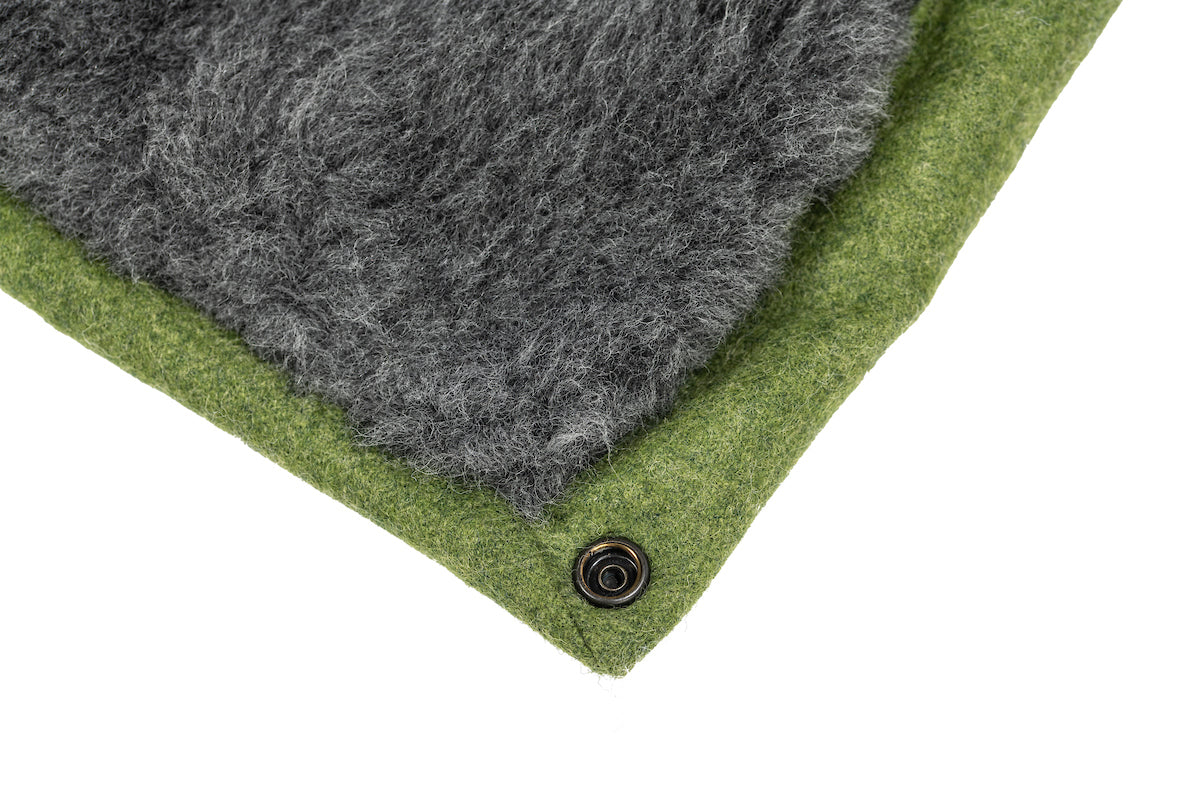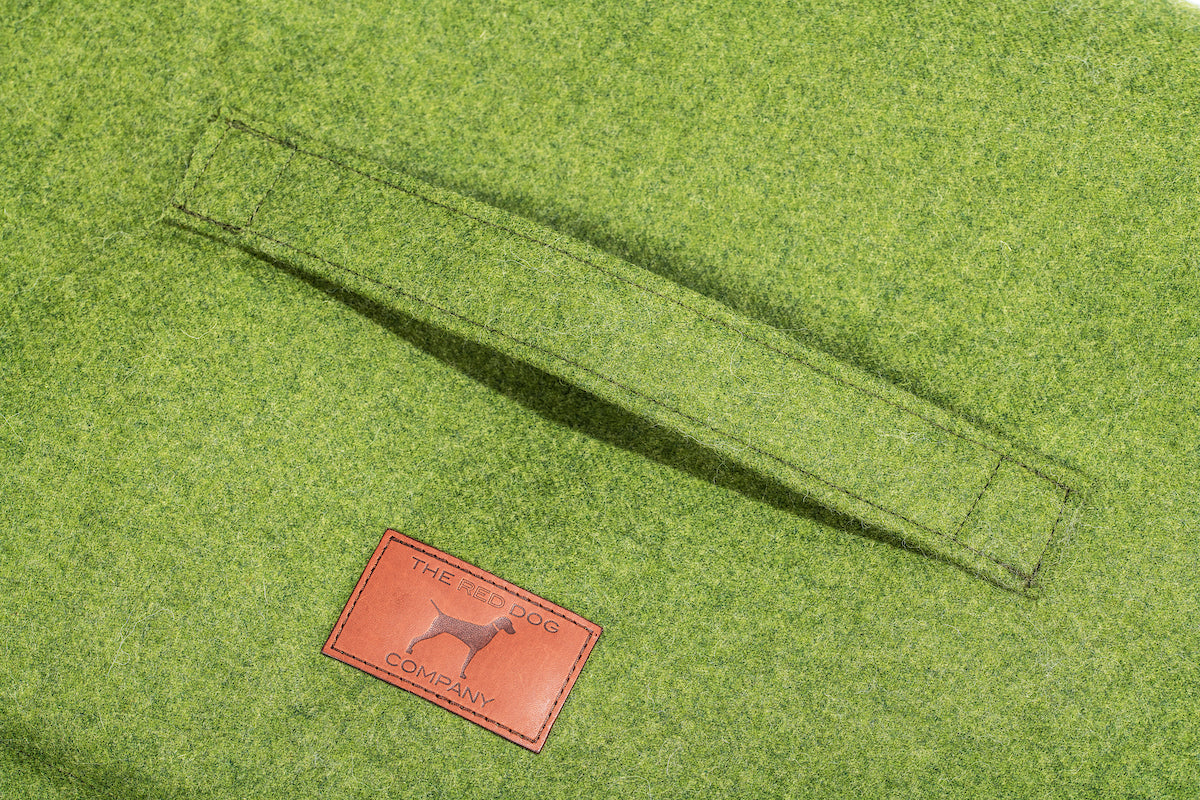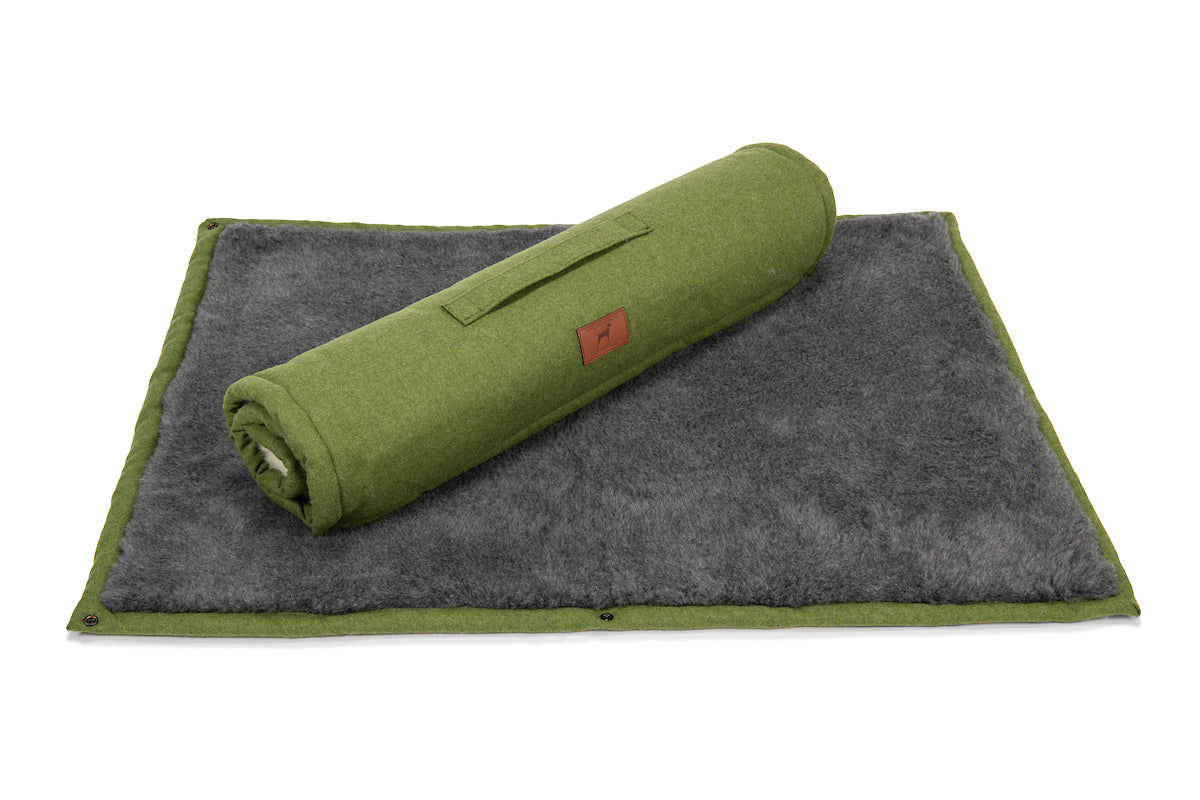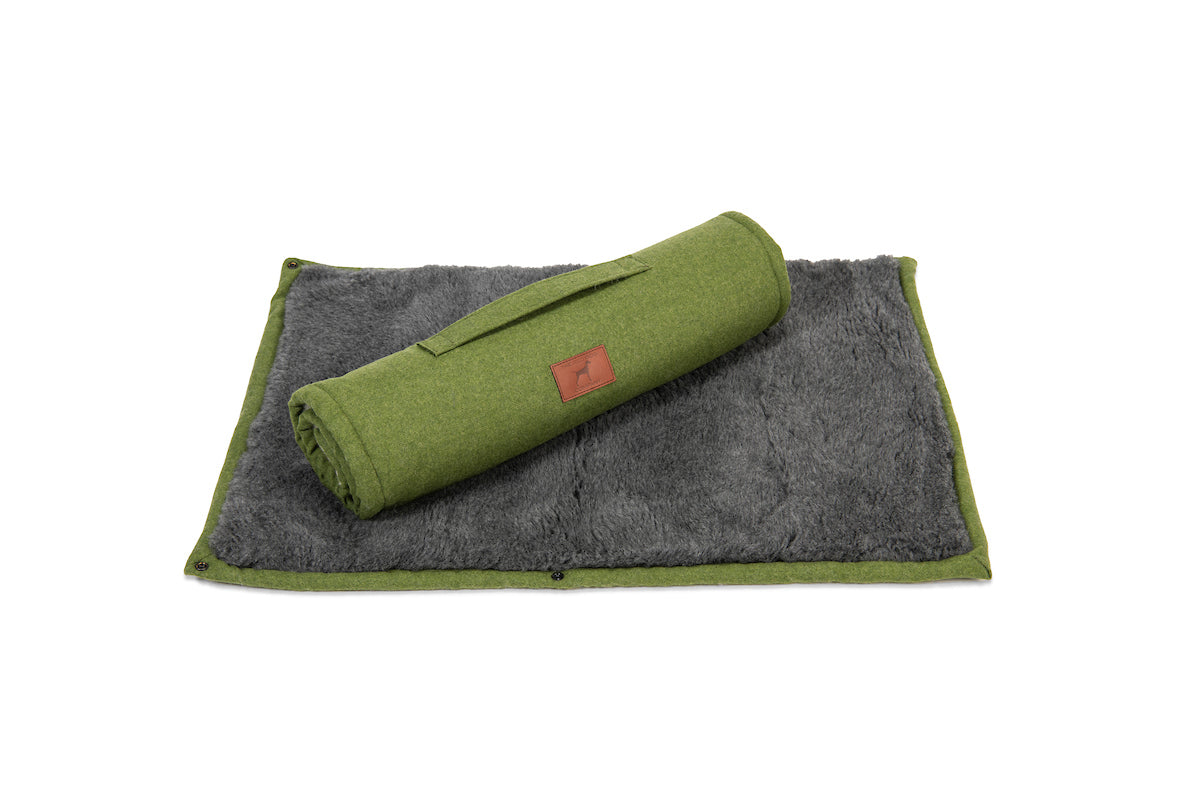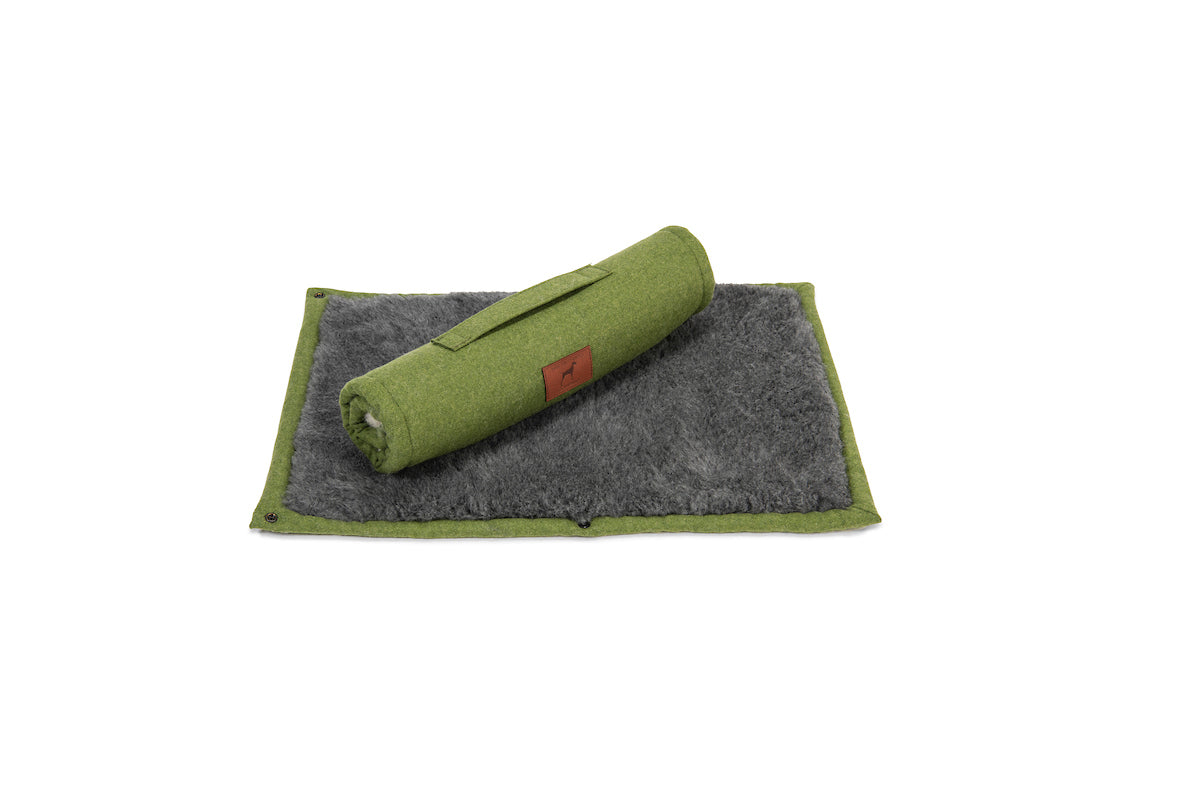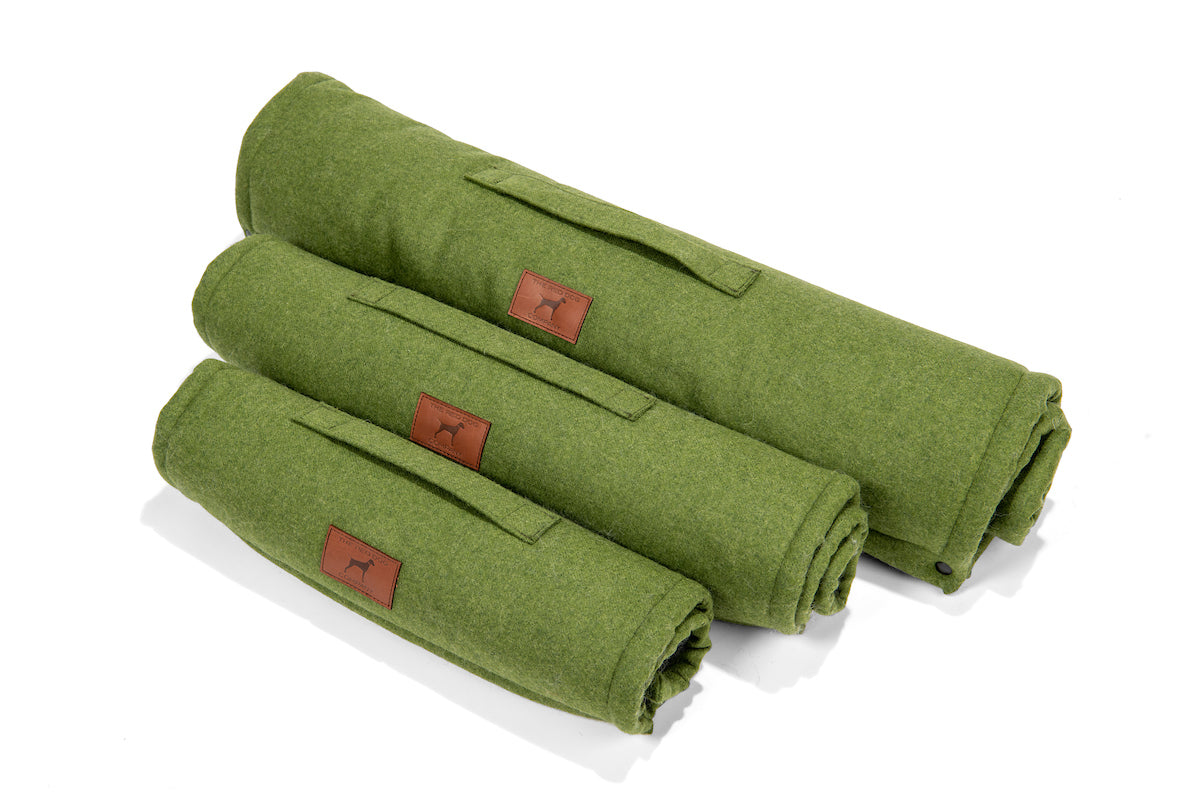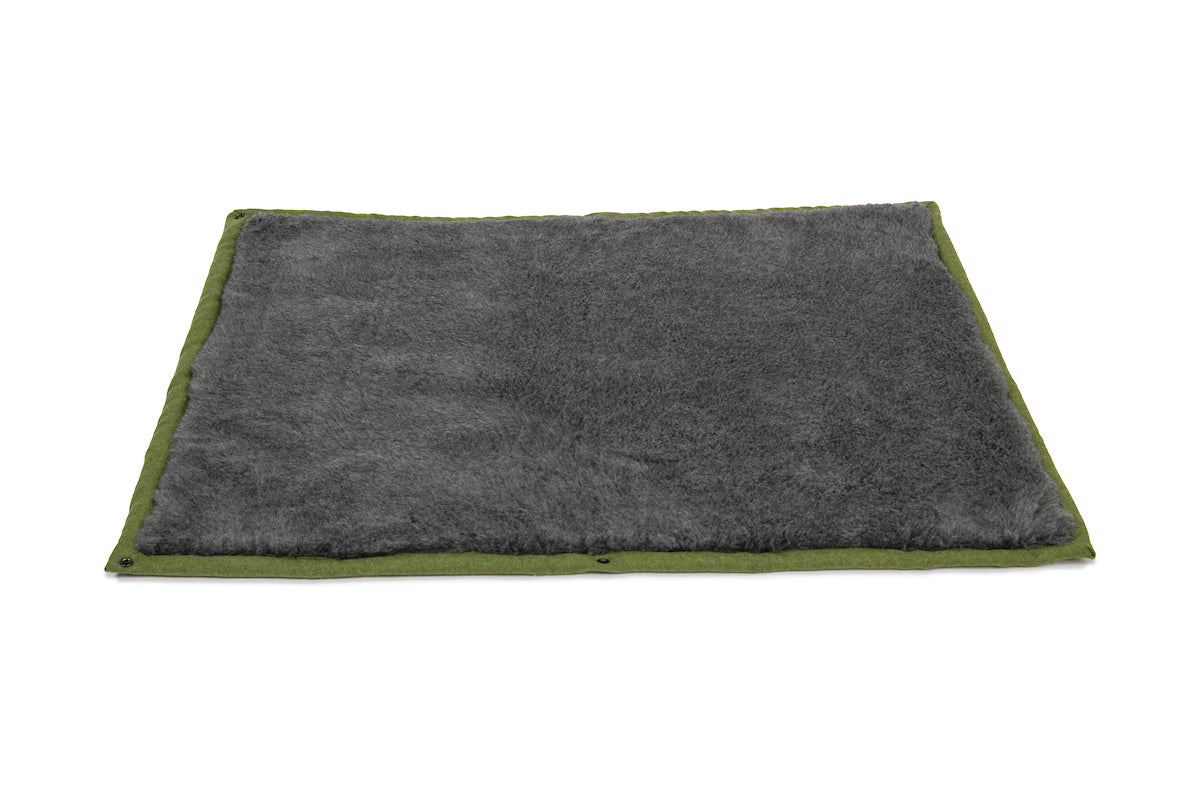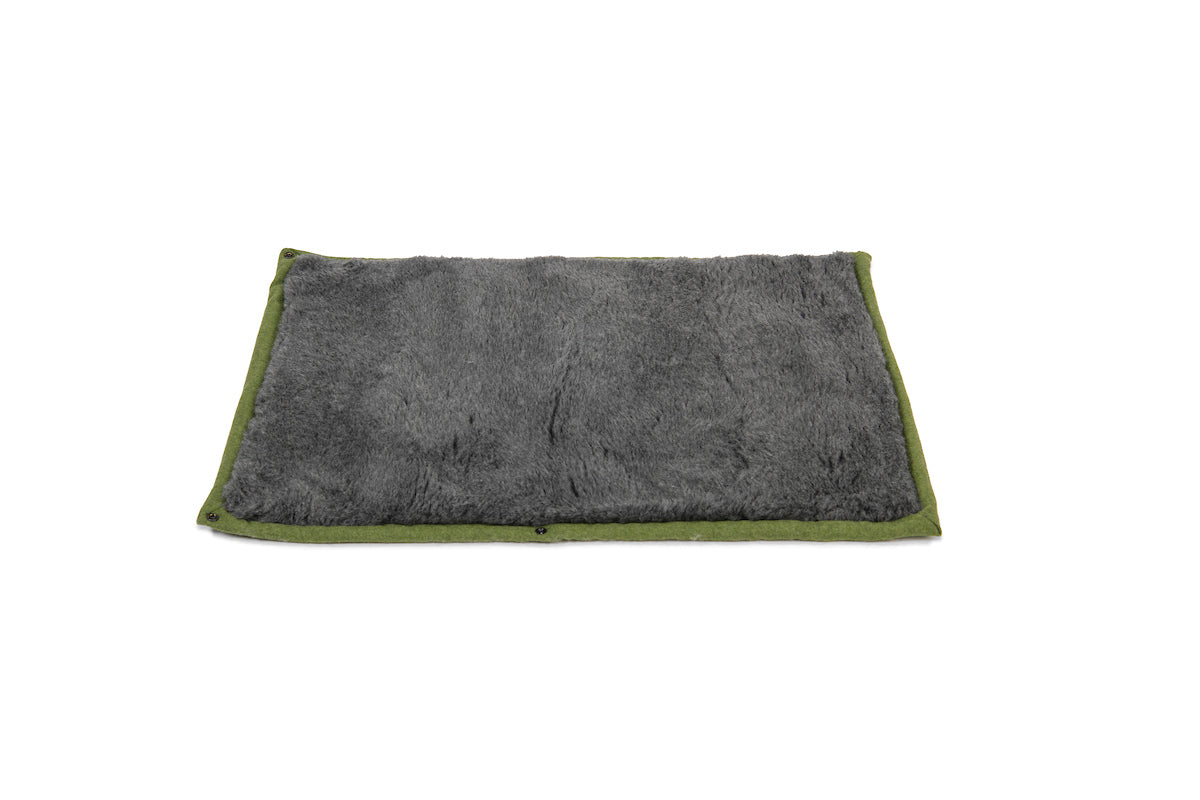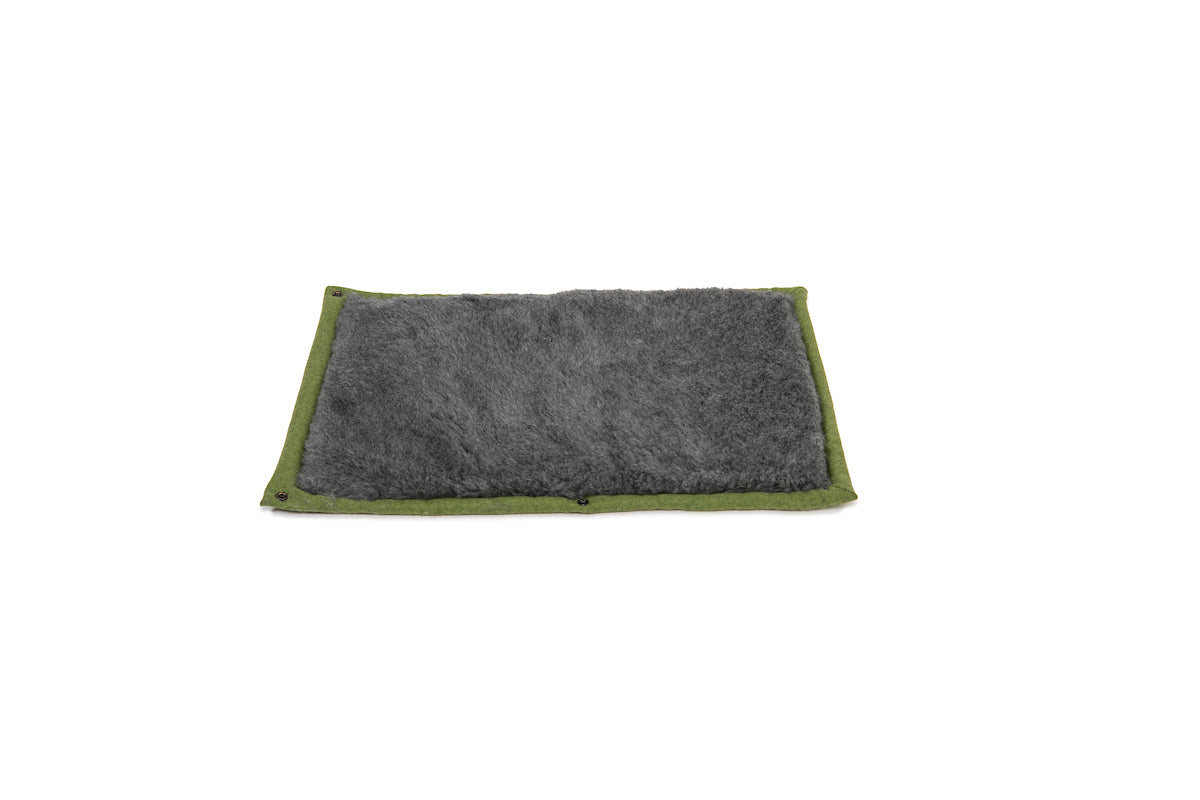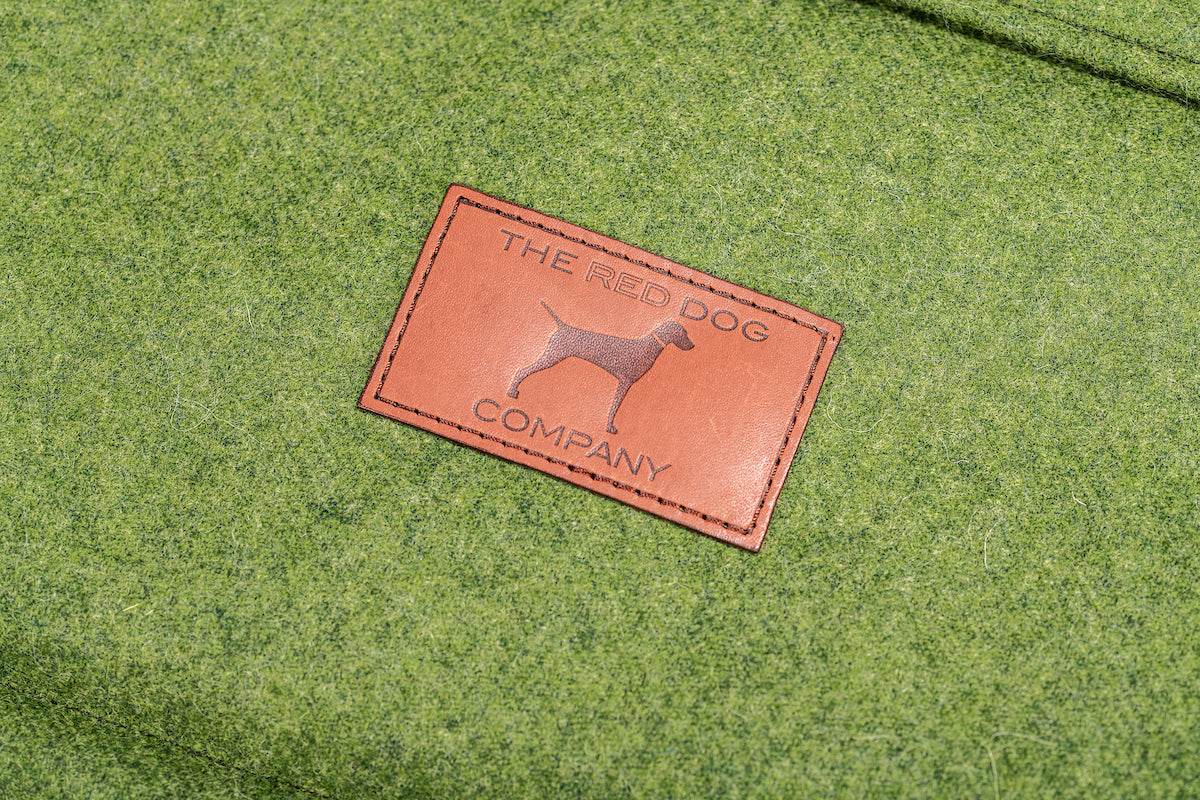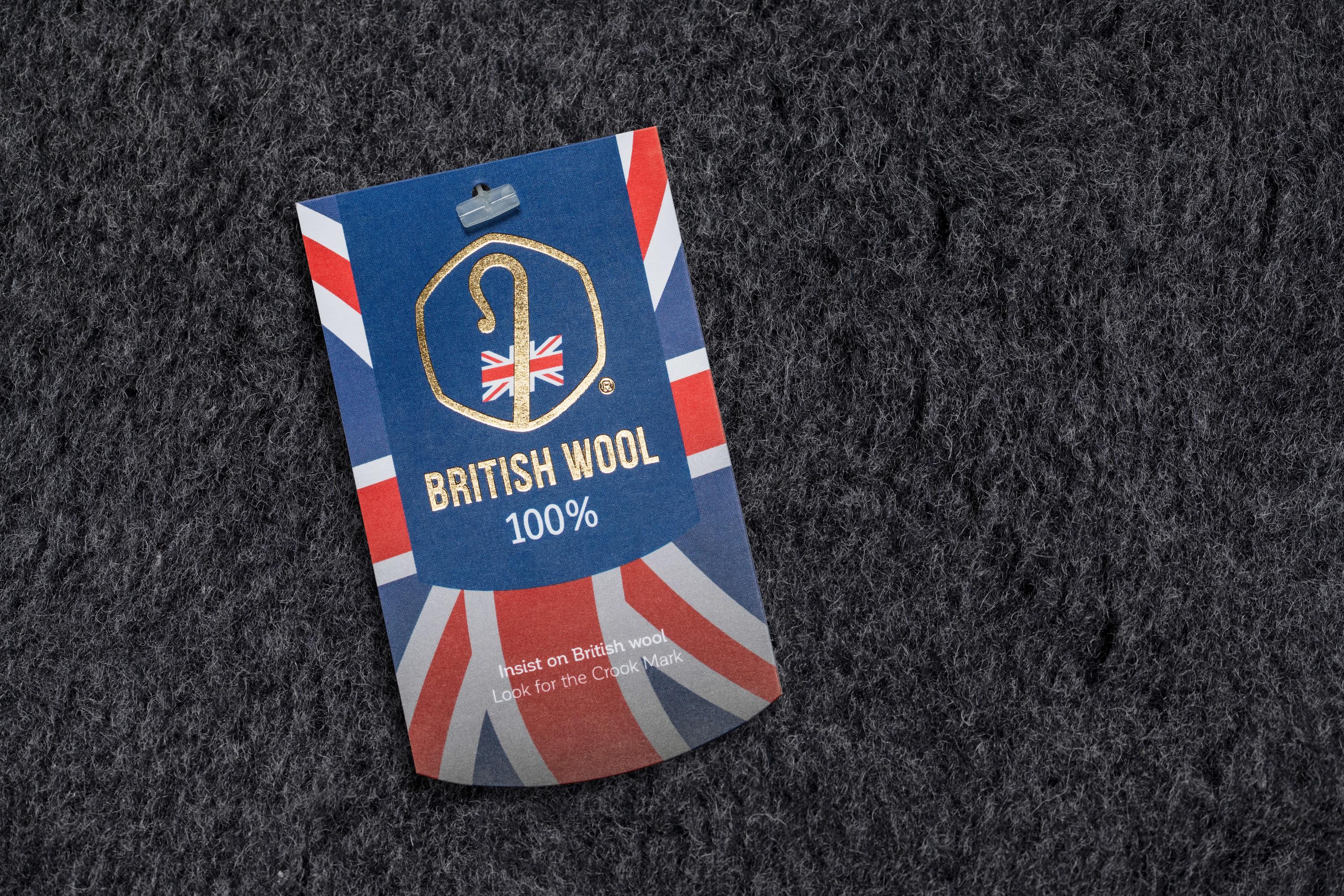 Grey Wool Topper
Apple Green Dog Roll Mat
Mat colour:
Topper colour:
Made in Great Britain, our Roll Mats are as versatile as they are comfortable – equally at home in front of the Aga, protecting the sofa, or in the back of the car, crate, or hotel room. 
The Roll Mat has our signature real wool pile topper, thick enough to be cosy and snug, whilst still rolling up neatly when not in use.
The wool topper has excellent thermal properties, allowing the body to feel warm in the winter, and cool in the summer.
Wool quickly wicks moisture away from the body, so is ideal for a damp dog after a wet walk.
It is also considered to be hypoallergenic, self-cleaning, and naturally breaks down bad smelling bacteria. However, when the time comes, the Roll Mats are machine washable.
The Apple Tweed fabric is made for us by Abraham Moon & Sons who have been making quality Tweed in Yorkshire since 1837.
Fleece Topper: 100% natural wool fleece knitted into a polyester yarn
Base: 100% pure new wool
All components and manufacture 100% British.
The Marton Mills tweed is 620gms per linear metre and achieves 28,000+rubs per Martindale abrasion test.
Machine washable. Suitable for occasional machine washing on a delicate 30°C cycle, using a gentle detergent, with no fabric conditioner.

Air dry away from direct heat sources. Do not tumble dry.

In order to best preserve the great look and feel of our mats, rather than over-washing, we recommend periodic light vacuuming in order to remove any dirt and grit particles which could accelerate wear.

Fire Safety:
Keep away from fire.

Don't forget to
Check your size
When investing in a top quality dog mat it's important to ensure that the size is right. We have roll mats available in small, medium and large and have a comprehensive guide on how best to size your dog for our products.
Metric Measurements
| Size | Weight | Unrolled | Rolled |
| --- | --- | --- | --- |
| Small | Up to 8kg | 51 x 69 cm | 51 x 13 cm |
| Medium | 8kg - 25kg | 87 x 64 cm | 64 x 15 cm |
| Large | 25kg + | 110 x 85 cm | 85 x 18 cm |
Imperial Measurements
| Size | Weight | Unrolled | Rolled |
| --- | --- | --- | --- |
| Small | Up to 18lbs | 20" x 27" | 20" x 5" |
| Medium | 18lbs - 55lbs | 34" x 25" | 25" x 6" |
| Large | 55lbs + | 43" x 33.5" | 33.5" x 7" |
Bespoke sizes available up to a maximum of 110cm x 85cm. To order please select 'bespoke' from the sizes and then add a note at the checkout in the Add Note field specifying the size you require.

For any questions regarding bespoke sizes or for other options please email us: info@thereddogcompany.com If you are in need for any advice when it comes to sizing, we are happy to help so please feel free to contact us.